Jim's Wrecker Service is a reputable business in Ft.Smith and has been for over 45 years. I, T.J Moore, have owned it for over 30 years which my father ran before I did. I bought him out when I was 20 and merged my previous wrecker business with his. In this business you need to know what you are doing or a customers car can get damaged quick! We depend on repeat customers and they speak highly of us from what we hear. It is not the wrecker that damage your cars! It is the driver. So I am very picky on who tows for me and that is the reason me or my son will be the one towing your vehicles . I also have an Automotive repair facility to repair any auto breakdowns. The shop is called T.J's Automotive. I have several excellent mechanics and are very good at fixing anything that needs fixed on a car from electronics to complete motors. If my mechanics cant fix it, then i can. We do it all! I invest in the technology of the newer computerized vehicles or anything that makes a vehicle run right. I have a used auto sales called Jim's Auto Sales 2 and have low down payments with reasonable prices. so if you need a wrecker, a mechanic or just to buy a car, call or come by and your problems are solved!!
Add your content here
Add your content here
Add your content here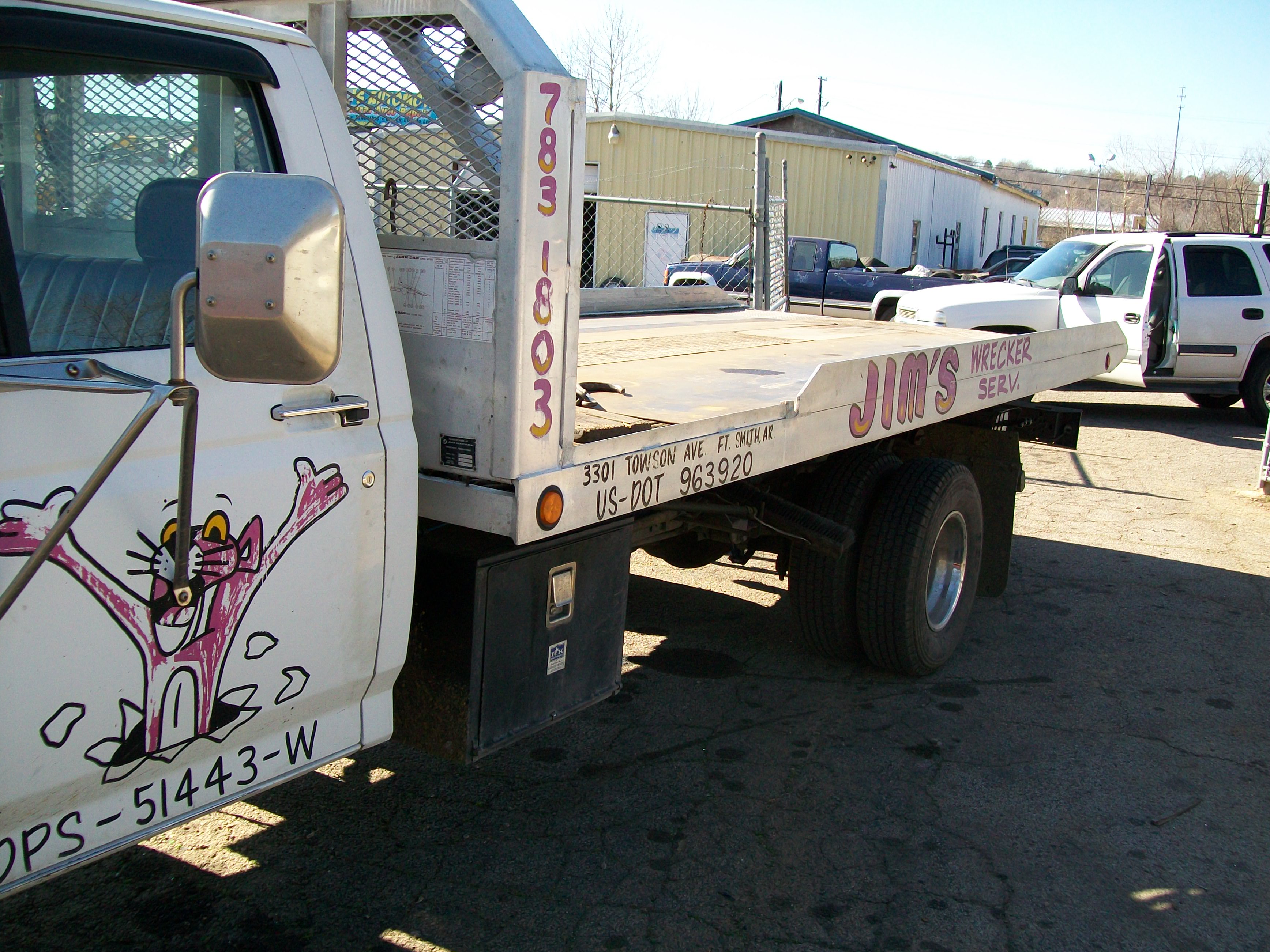 In a Kink?? Think PINK!!!!

Jim's Discount Wrecker Service
T.J'sAutomotive
3301 Towson Ave.
Ft.Smith Ar,72901
Wrecker(479) 783-1803
SHOP (479)434-8257
CELL (479)651-2502
FAX (479)434-4177
Jim's Auto Sales 2
3201 Towson Ave
Ft.Smith Ar 72901
(479) 709-9474
T.J Moore, Owner of Jim's is active in the towing industry, He is the President of The Western Arkansas Towing Assoc, A member of the Arkansas Towing & Recovery Board, A member of Oklahoma Wrecker Owners Assoc, Approved for Police rotations, Attended schools and put on a recovery demonstration for fellow operators in the area. Attended meetings at the Attorney Generals office to know the law on towing vehicles. The automotive repair facility has all the computers and equipment so it is a full service center so we can serve you better. T.J and the mechanics also attend all schools that is possible to go to for better knowledge on newer cars and products so you will not have to worry about who's hands your vehicle is in. You can count on T.J's to be honest and fair to everyone and are welcome to ask around !! The used car dealership is 3 buildings away from the shop and we sell vehicles with low down payments and low weekly payments. All vehicles go to the shop to get looked over and repair anything wrong we see that is visible before we put them on the lot for sale. Remember, Any vehicle is subject to breaking down, NEW OR USED, so if you have any issues we have you covered!! Just give us a call. Tow, Sell, and Fix is what we do.